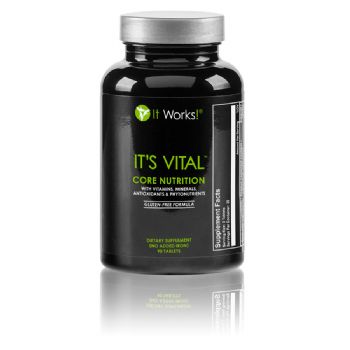 $ 29.00
Loyal Customer Price
Retail Price: $ 49.00
It`s Vital™ Core Nutrition
CUTTING-EDGE MULTIVITAMIN
90 Tablets
Get the core nutrients you need right when your body needs them with the cutting-edge ingredients of It's Vital Core Nutrition. This plant-based, whole-food multivitamin supplies the essential antioxidants, phytonutrients, and vitamins you need throughout the day with controlled-release technology, giving you sustained nourishment for up to 12 hours. It's core nutrition for your best health!
Mind/body energy blend to stay energized and sharp mentally and physically†
Improved metabolic support to boost your body's ability to burn calories†
Patented controlled-release technology for sustained nourishment throughout the day
Gluten-free, containing a plant-based whole food complex
Small, easy-to-swallow tablet with minty-fresh coating
Foundational nutrition that works synergistically with other It Works! supplements
†These statements have not been evaluated by the Food and Drug Administration. This product is not intended to diagnose, treat, cure or prevent any disease.