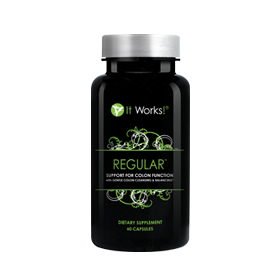 $ 27.00
Loyal Customer Price
Retail Price: $ 45.00
Regular™
SUPPORT FOR COLON HEALTH
60 Capsules
This life-changing, naturally based supplement is designed to aid in elimination and restore and support normal colon function† naturally. Using Regular ensures daily removal of toxins and waste material and offers a gentle way to cleanse the colon.
Promotes regular colon function†
Supports healthy liver and gallbladder function†
Safe and gentle (no urgency effect)
Cleanses toxins from the colon†
Balances colon pH level†
†These statements have not been evaluated by the Food and Drug Administration. This product is not intended to diagnose, treat, cure, or prevent any disease.