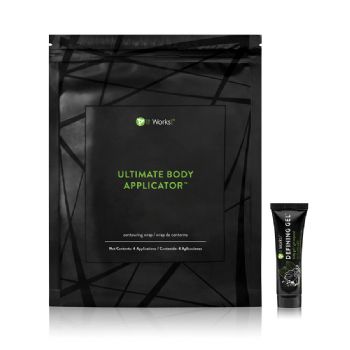 $ 69.00
Loyal Customer Price
Retail Price: $ 115.00
Wrap Pack™
Includes:
1 bag* Ultimate Body Applicator™ (4 Applications)
1 tube Mini Defining Gel™l (0.5 fl. oz.)
The Wrap Pack will have you wrapping your way to a tightened, toned, and firmer body with the one-two combination of the Ultimate Body Applicator and mini tube of our best-selling contouring Defining Gel!
Tighten, tone, and firm in as little as 45 minutes!
Redefines the appearance of your body's contours
Look younger with improved skin texture and tightness
*packaging subject to availability.
Individual results can and will vary.It Works! cosmetic products are purely cosmetic in nature and do not claim to cure/treat/prevent any skin & hair related disorders. If you are allergic to any ingredients listed, or are under treatment or on medication for your skin, please consult with your physician prior to use.