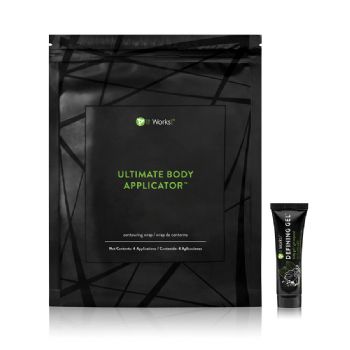 $ 69.00
Loyal Customer Price
Retail Price: $ 115.00
Wrap Pack™
Includes: 1 box Ultimate Body Applicator, 1 sample tube of Defining Gel
The Wrap Pack will have you wrapping your way to a tightened, toned, and firmer body with the one-two combination of the Ultimate Body Applicator™ and mini sample tube of our best-selling contouring Defining Gel™!
Tighten, tone, and firm in as little as 45 minutes!
Redefines the appearance of your body's contours
Look younger with improved skin texture and tightness
Don't wait another second to makeover your life. Join the body revolution today! The Ultimate Makeover is the ultimate system to help you get your sexy back! Whether you are working to lose weight, want toning and firming, or simply desire to be healthier, there's an Ultimate Makeover Pack that's a perfect fit for you.
Individual results can and will vary.It Works! cosmetic products are purely cosmetic in nature and do not claim to cure/treat/prevent any skin & hair related disorders. If you are allergic to any ingredients listed, or are under treatment or on medication for your skin, please consult with your physician prior to use.