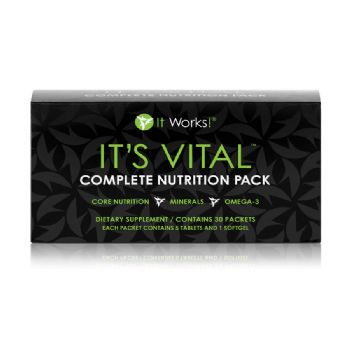 $ 69.00
Loyal Customer Price
Retail Price: $ 115.00
It`s Vital™ Complete Nutrition Pack
It's Vital™ Minerals
It's Vital™ Omega-3
It's Vital™ Core Nutrition
Meet all of your daily vital nutrition needs with added nutrients and minerals, superior calcium absorption, and triple strength support for heart health all in one premeasured daily pack.It's Vital Complete Nutrition Pack builds on the foundational It's Vital Core Nutrition, adding It's Vital Minerals and It's Vital Omega-3 to give you complete, premium nutrition.
It's Vital™ Minerals:
Sea algae-derived Aquamin® premium mineral blend with over 74 trace minerals
Support for healthy bones and teeth with 250% the RDA of Vitamin D
Maximum calcium absorption with Vitamins K1 and K2 (MK-7), ensuring calcium stays in bones to help minimize arterial calcification
Keep your heart strong with Vitamin K2 support for cardiovascular health
It's Vital™ Omega-3:
Triple strength fish oil-derived DHA and EPA fatty acids to help maintain and support healthy cholesterol levels
Natural rosemary-based antioxidants to fight free radicals and support health cell growth
Support for healthy joint movement and for the body's response to minor inflammation
Lemon-flavored softgel that's easy to swallow
It's Vital™ Core Nutrition:
Gluten-free, plant-based, whole food complex
Patented controlled-release technology for sustained nourishment throughout the day
Mind/body energy blend to stay energized and sharp mentally and physically
Improved metabolic support to boost your body's ability to burn calories
Made with natural ingredients
These statements have not been evaluated by the Food and Drug Administration. These products are not intended to diagnose, treat, cure or prevent any disease
Individual results can and will vary. These descriptions are not intended to make claims that these products can be used to diagnose, treat, cure, mitigate or prevent any disease. These claims have not been clinically proven or evaluated by the FDA or any regulatory or governmental agency.