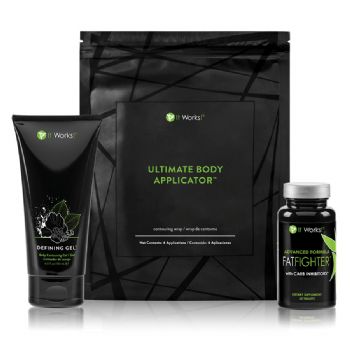 $ 112.00
Loyal Customer Price
Retail Price: $ 189.00
Skinny Pack™
Includes:
1 bag* Ultimate Body Applicator™ (4 Applications)
1 tube Defining Gel™ (6.0 fl. oz.)
1 bottle Advanced Formula Fat Fighter™ (60 Tablets)
You can have your cake and eat it too when you add Advanced Formula Fat Fighter with Carb Inhibitors to your Ultimate Makeover regimen. The Skinny Pack has all the tightening, firming, and defining of the Ultimate Body Applicator and Defining Gel, plus the fat and carb fighting powers of Advanced Formula Fat Fighter.
Tighten, tone, and firm in 45 minutes with the Ultimate Body Applicator
Redefines the appearance of your body's contours
Absorb less fat and carbs even after you've eaten them!
Balance your blood sugar levels to reduce cravings
Cut those diet-killing carb cravings
*packaging subject to availability.
Individual results can and will vary.It Works! cosmetic products are purely cosmetic in nature and do not claim to cure/treat/prevent any skin & hair related disorders. If you are allergic to any ingredients listed, or are under treatment or on medication for your skin, please consult with your physician prior to use.